Prepared Childbirth eClass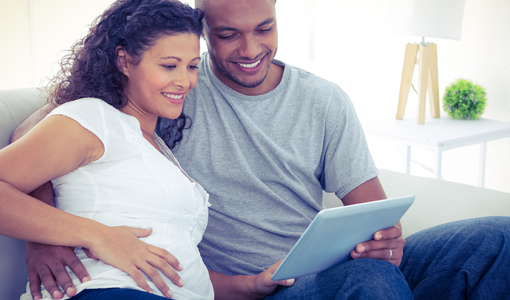 The eight-chapter program is an self-paced online class, this web-based class uses videos, personal birth stories, animations, activities, and games to teach all the essential information parents need to know to prepare for their birth. Plan to start this eClass approximately 12 weeks prior to your due date.

This eClass will virtually meet on Wednesday June 8th, 6:30pm when a certified instructor will introduce you to the eClass content and after approximately 4 weeks (time for you to go over the eClass modules) you will meet with your instructor again for an informative session and to answer questions you may have about labor and delivery.
The date for the second virtual meet with your instructor will occur on Wednesday June 29th at 6:30pm. Please make sure both virtual meeting dates work with your calendar.
It is important that you have reviewed the eClass content prior to the second virtual meeting, this Q&A session does not replace any of the Prepared Childbirth modules from your eClass.
We invite you to sign up for a complementary Virtual Maternity Tour to receive current logistical information about NC Women's Hospital at Chapel Hill.

And to sign up for our complementary Virtual MOM Networking sessions occurring on Wednesdays at 10:30am, these sessions are most useful during your last quarter of pregnancy and after delivery.

Our childbirth eClass will help you:
Understand pregnancy – what's happening to your body, discomforts, warning signs, nutrition, exercise, and more
Learn about labor – preparing for birth, pre-labor signs, onset of labor, 3D animation of labor process, and more
See how the stages of labor unfold – watch amazing real-life birth stories
Discover helpful comfort techniques – breathing, relaxation, massage, visualization, focal points, hydrotherapy, labor and pushing positions, advice for partners and more.
Your eClass registration includes:
Online access for 90 days (from the moment you open class's link)
and Two live virtual group sessions with an instructor
If you have more questions, you may reach us at: 984-974-8882 or Stork@unchealth.unc.edu


Fee: $95.00, includes one partner. Class original cost is $120 but during Covid-19 transition, the cost will be adjusted to $95 per couple. Medicaid and Employee discount will also be applicable
Location: From anywhere with Internet access
Please be aware that the emails you will receive from our registration system will be from: nchealthywoman@learning-stream.com. Check all spam and junk folders!
Click here
Event Time: From 6:30 PM to 8:00 PM
Instructors: Evelyn Bussell, Megan Stauffer, Chelsea Robinson, Katie Jackson

Number of Spaces Remaining: 7